CREATIVE PORTFOLIO - BIG VIKING GAMES
The following are examples of the broad range of the projects that I worked on as Associate Corporate Marketing Manager for Big Viking Games.
CONCEPT, DIRECTOR, VIDEOGRAPHER - BVG ❤ VALKYRIES
When promoting the BVG corporate brand and trying to attract new talent to the company, one of the biggest hurdles we need to clear is the perception that gaming is a male-dominated profession. Though our staff numbers did skew heavily male, we wanted to celebrate the fact that BVG remained a welcoming workplace. So, using an event we were hosting for young women interested in tech as a catalyst, I collaborated with an editor and sound designer to create this video to position BVG as a progressive gaming company to attract female professionals.
US HIRING SITE - GO NORTH
In an attempt to capitalize on the election of Donald Trump and US talent seeking job opportunities north of the border, I wrote and designed a landing page for our website. The goal of the site was to answer anticipated questions from US talent interested in relocating to Toronto and to connect them with BVG's HR team.
CONCEPT, DIRECTOR, VIDEOGRAPHER - WE ARE BIG VIKING GAMES
Externally, BVG was always well known for free to play games on Facebook, and a fun-loving corporate culture. The goal for this video was to broaden prospective applicants' perspective on the company, communicating more about the focus on HTML5, and internal promotion and professional development. My personal goal for the video was to also showcase diversity as the gaming industry can be a very homogenous environment.
THE RAVEN - BVG INTERNAL WEEKLY NEWSLETTER
With Big Viking's operations spread across two offices, one of corporate marketing's biggest challenges was to keep the whole team informed and to curb misinformation and rumours. To accomplish this between our quarterly Town Hall presentations, I created a weekly newsletter, The Raven, to deliver performance metrics for our games and project updates from senior management to everyone's inboxes. When not curating and editing content, I wrote additional pieces for the Raven as needed.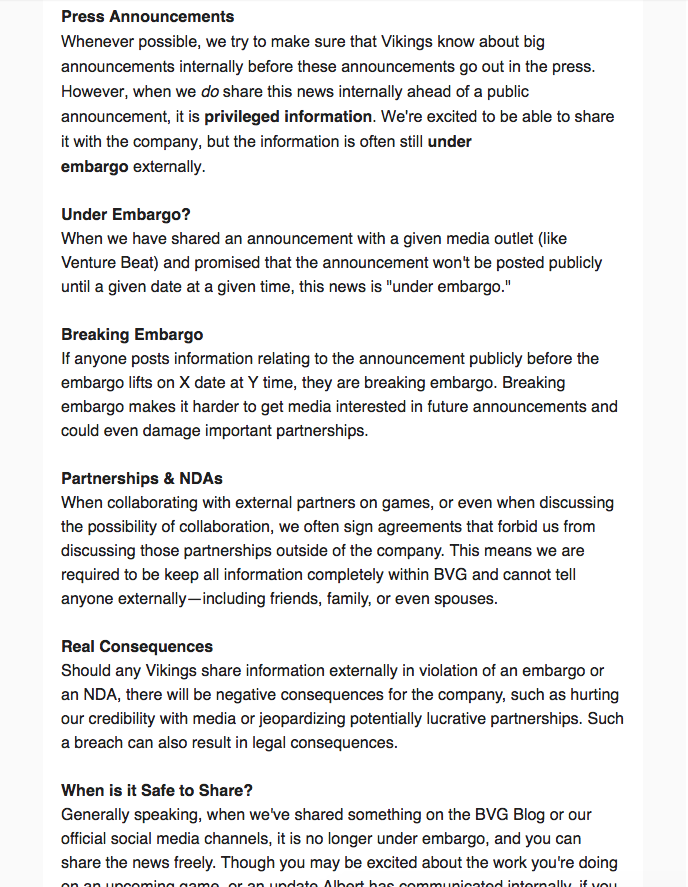 CULTURAL ONBOARDING PRESENTATION
One of BVG's biggest assets was its award-winning culture. A big part of this culture was all the perks available in our offices, such as gaming areas, all-company feasts, free food, and drinks. However, senior management had concerns that employees were being distracted by these perks and losing site of their responsibilities. I was tasked with creating a 4-part onboarding presentation that could be used both to orient new hires and to reorient existing employees. The following is the first part of that presentation.
BVG BLOG - VIKING PROFILES
Under the guise of shedding light on some of the less understood positions in a gaming company, I created a series of Viking Profile blog posts. These posts also gave me a chance to showcase a more personal side to Big Viking Games. As they were text-heavy, I wanted to make sure that there was an engaging visual hook for the articles. To this end, I worked with an artists to develop a branded, game-inspired portrait style that would be instantly recognizable.
READ THE PROFILE: WHAT IT MEANS TO BE A PRODUCER
READ THE PROFILE: THE LIFE OF A GAME DESIGNER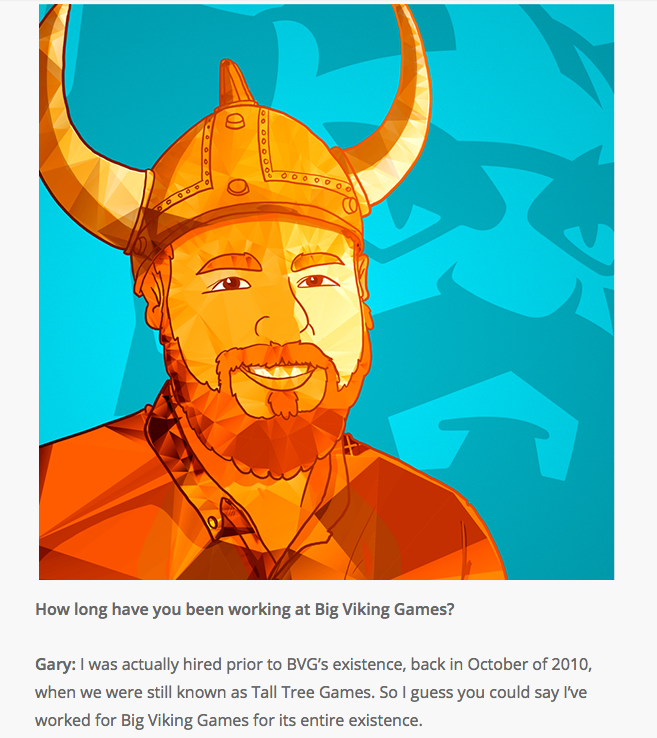 CAREERS PAGE
I expanded the BVG Careers page using video, photos, and links to blog posts to provide a human face for the company, allowing applicants to better picture themselves working at BVG.